Kristian plays the King...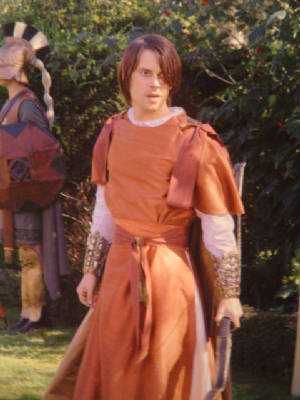 At a Glance.........
Birthday: 28th November.
Star Sign: Saggitarius.
First Job: Neighbours.
Lives: Sydney
Kristian Schmid has worked in film, theatre and television.
After playing Todd on Neighbours for four years he moved to London. He hosted "Going Live" for the BBC, and starred in "The Tomorrow People", "Two Weeks With the Queen", and theatre shows "The Lion in Winter" and A Midsummer Night's Dream".
Did you know Kristian has performed in three productions of the Shakespeare play? Most recently for the Bell Shakespeare company..... The show played at the Opera House, before touring the country.
After returning from the UK Kristian studied at the Western Australian Academy of Performing Arts for 3 years. (Hugh Jackman and Marcus Graham went there too!)
Kristian Schmid had a leading role in the Aussie film about schoolies week "Blurred".
For the theatre in 2006 he performed in "Two Weeks with the Queen" for Windmill Theatre (South Australian Theatre Company) and "The United States of Nothing" for the Stables Theatre.
Television appearances include "Stupid Stupid Man", "All Saints", "Blue Heelers", "Flipper" "Good Guys, Bad Guys" and he played Buddy Holly in "Nightmares and Dreamscapes" for TNT and King Eurystheus in "Hercules" for NBC.